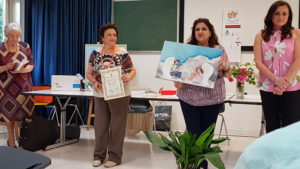 We are proud to announce that on 03/06/2018, Monica Caiazzo was rewarded in the city of Mercogliano as first classified for her painting that took part in the competition called "the call of the angels".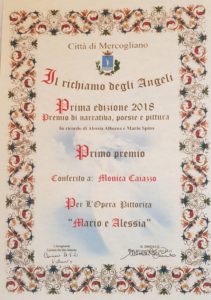 This work is dedicated to two very young boys and their untimely death.
The intent of the author is not to represent the pain of loss or suffering of the disease, but wants to convey the serenity and light-heartedness, typical of the young age of the boys to whom the competition is dedicated.
The two are sitting in the sky and playing with soap bubbles, her gaze is directed towards the viewer as if to convey the sense of peace that she herself feels. Behind them the Divine light, symbol of the loving presence of the Father who watches over all of us.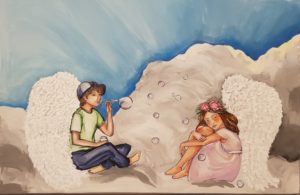 The painting will remain on permanent display in the library of the Loreto Abbey of Mercogliano.